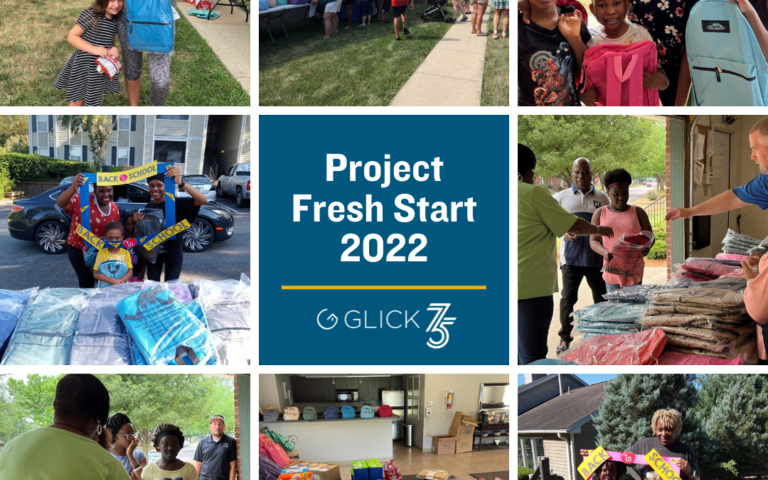 Back to Newsroom
3,200 Backpacks Donated through Project Fresh Start
As the 2022–2023 school year approaches, the Gene B. Glick Company wanted to ensure all youth residents have the tools that they need to start the school year off on the right foot. Glick team members rallied together to raise money through Project Fresh Start to purchase nearly 3,200 backpacks filled with essential school supplies. Backpacks and supplies will go to school-aged residents at 35 apartment communities across eight states.
Since 2015, Glick has distributed nearly 225,000 school supply items to residents and the broader community. Participating properties this year include:
Florida: Cambridge Square Lauderdale Lakes, Sienna Square
Indiana: Applecreek, Bradford Lake, Briarwood Columbus, Briarwood Lafayette, Capri Meadows, Cedar Ridge, Cambridge Square Greenwood, Cambridge Square LaPorte, Carriage House Evansville, Carriage House East, Carriage House West, Carriage House Muncie, Colonial Square, Cambridge Square North, Jamestown Washington, Loper Commons, Mann Village, Northwood Franklin, Richfield Ft. Wayne, The Reserve at Chandler's Glen, Thompson Village, Windsor Park
Kentucky: Fairington Lexington, Hampton Place
Michigan: Carriage House Muskegon, Hickory Village, Plymouth Arms & Cambridge Square Grand Rapids
Missouri: Stonebridge
North Carolina: Bethabara Pointe
Ohio: Briarwood Toledo, Timber Creek
Virginia: Carriage House Virginia Beach, Governor's Pointe, Spruce Village
We wish all our neighbors an educational, healthy and safe school year! To learn more about Glick's other corporate social responsibility initiatives, visit genebglick.com/corporate-social-responsibility/.