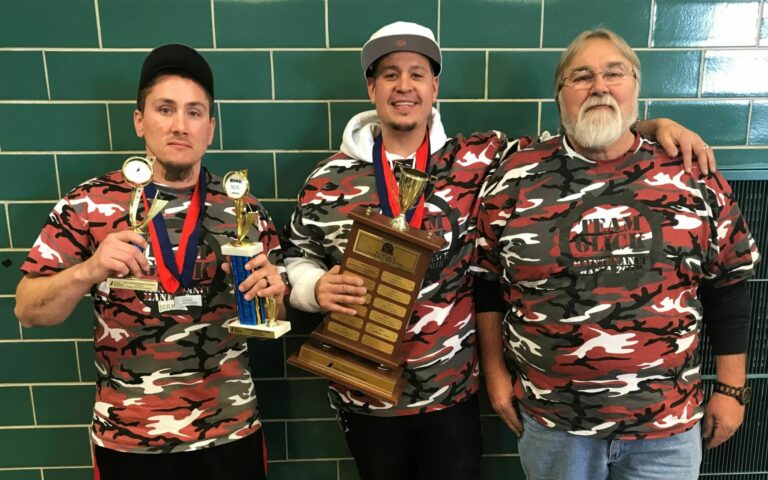 Back to Newsroom
IndyStar Features Glick Duo Headed to "Maintenance Mania" Finals
After receiving first and second place, respectively, in the Indiana Apartment Association's Maintenance Mania games in April, Anthony Alfaro and Daniel Moss are preparing to represent the Gene B. Glick Company at the national competition tomorrow in San Diego.
In this article from The Indianapolis Star, Sarah Bahr talks to Alfaro about how he aims to "finish even higher this year."
These maintenance men can fix a toilet in 12 seconds flat, and they're out to compete
By Sarah Bahr
When most guys fix a toilet, they don't have an audience of 700 screaming fans armed with light-up goggles, feather boas and cutouts of their faces cheering them on.
But, then again, most guys can't patch your plumbing in 12 seconds.
Three local maintenance men who work at Indianapolis apartments will compete in the "Maintenance Mania" National Championship in San Diego on Friday for a shot at more than $20,000 in cash and prizes and the title of Fastest Maintenance Technician in the Country.

Daniel Moss, Anthony Alfaro and coach Randy Lewis[/caption]
Anthony Alfaro, Daniel Moss and Raymond Raines, who work at Ashton Pointe, Carriage House West and Circle City apartments, respectively, will each try to bring home the title to Indiana for the first time since 2011.
They are among 20 finalists from around the United States who qualified for the national championship based on their times in regional bouts.
Alfaro finished third at the national championship in Atlanta last year, losing out on the top spot by a margin of one second. It was his best finish in his now six years of competing — three in the national championship — but he's hungry for more.
"I ripped my calf muscle and was bedridden for two days going into last year's national championship, which limited my practice time," he said. "Nevertheless, I worked as hard as I could and finished my best yet, and I'm aiming to finish even higher this year."
The competitors will perform eight timed tasks, including replacing a water heater, installing an ice maker, fixing a toilet and building and racing a pinewood derby-style race car — all at superhuman speed.
You know the 30 seconds you spent ignoring that YouTube ad?
These guys can assemble a ceiling fan in under 11 seconds. Install a smoke detector in under six. Repair a toilet in just over 12.
And still have a second left over to soak in the adulation of their adoring maintenance fans.
With just over a second separating last year's first- and third-place finishers, the stakes are high. There's no room for error.
The men prepare all year long for the competition, spending up to 42 hours per month training for the event.
Though Alfaro's background is in aviation maintenance — he worked as a mechanic at the Indianapolis International Airport during college — true passion is helping residents.
"After 15 years, I still love going to work every day," he said. "There's no better reward than helping someone in need of assistance."
"Maintenance Mania" is hosted by the National Apartment Association.