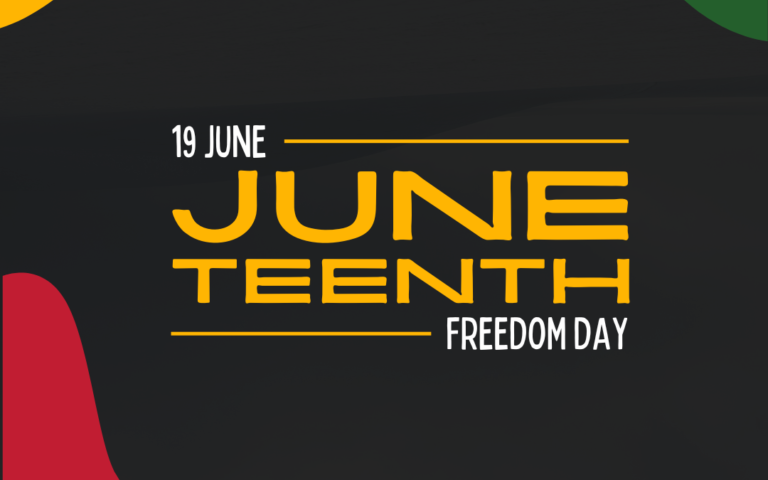 Back to Newsroom
On January 1, 1863, the Emancipation Proclamation was issued by President Abraham Lincoln, freeing "all persons held as slaves within any State or designated part of a State." But this proclamation did not free all those enslaved immediately. News of emancipation moved slowly across the country, and enslaved people and slaveholders lived in the country's far reaches, detached from the events taking place.
Two years after the Emancipation Proclamation, Gen. Gordon Granger and federal troops arrived in Galveston, Texas. Gen. Granger delivered a proclamation to the people of Galveston, stating, "The people of Texas are informed that, in accordance with a proclamation from the Executive of the United States, all slaves are free." That day, June 19, 1865, marked the official end of slavery in the United States.
Juneteenth commemorates America's second Independence Day when all Americans became free. While celebrations of the Juneteenth holiday have taken place since the 1860s, it wasn't until June 17, 2021, that the federal government recognized Juneteenth as a national holiday. Today, Juneteenth celebrations across the nation bring communities together through culture, food, music and art.
This Juneteenth, we encourage you to join in the celebration. Glick offices will be closed on June 20th in recognition of the holiday.
Below is a list of events happening in every state that Glick serves. If you are unable to participate in an in-person event, consider supporting a Black-owned business or donating to a cause that supports the equity of Black people. You can find Black-owned businesses near you at supportblackowned.com and learn more about issues impacting Black Americans at naacp.org/know-issues.
Florida
Location: Hollywood, FL
Date: June 19, 2022
Kentucky
BLK MARKET – Juneteenth Celebration
Location: Bowling Green, KY
Date: June 19, 2022
Juneteenth Jubilee Celebration
Location: Louisville, KY
Date: June 19-20, 2022
Illinois
Location: Springfield, IL
Date: June 19, 2022
Indiana
Baptisttown Juneteenth Culture & Arts Festival
Location: Evansville, IN
Date: June 19, 2022
Location: Bloomington, IN
Date: June 19, 2022
Location: Fort Wayne, IN
Date: June 19, 2022
Elkhart Juneteenth Celebration
Location: Elkhart, IN
Date: June 19, 2022
Michigan
Location: Flint, MI
Date: June 19, 2022
New York
Location: Buffalo, NY
Date: June 19, 2022
South Carolina
Location: Columbia, SC
Date: June 19, 2022
Virginia
Location: Virginia Beach, VA
Date: June 19, 2022
Location: Woodbridge, VA
Date: June 19, 2022
Wisconsin
Location: Milwaukee, WI
Date: June 19, 2022